Given the fact that we're in a global pandemic, the stock market is at record highs, and this is a presidential election year, this fall is poised to be anything but dull. The upcoming elections, pumpkin spice lattes, and hoodie weather, is enough to heat things up in the Garden State in the weeks ahead, but an even hotter topic in New Jersey, is a ballot initiative to legalize cannabis for adult-use.
Introduced in late 2019, New Jersey Senate Concurrent Resolution No. 183 would amend the State constitution to allow for the "growth, cultivation, processing, manufacturing, preparing, packaging, transferring, and retail purchasing and consumption of cannabis, or products created from or which include cannabis, by persons 21 years of age or older." Additionally, the marketplace would be subject to regulation by the Cannabis Regulatory Commission. This amendment would be in addition to, and would not replace, the previous medical regime. This amendment would also not have a direct effect on the hemp industry.
In terms of taxation, cannabis sales would be subject to state sales tax. Local municipalities would be eligible to institute additional local option taxes, not to exceed 2%, on the sales of cannabis and cannabis related products. These taxes would, of course, be in addition to the income tax generated from successful operators within the State.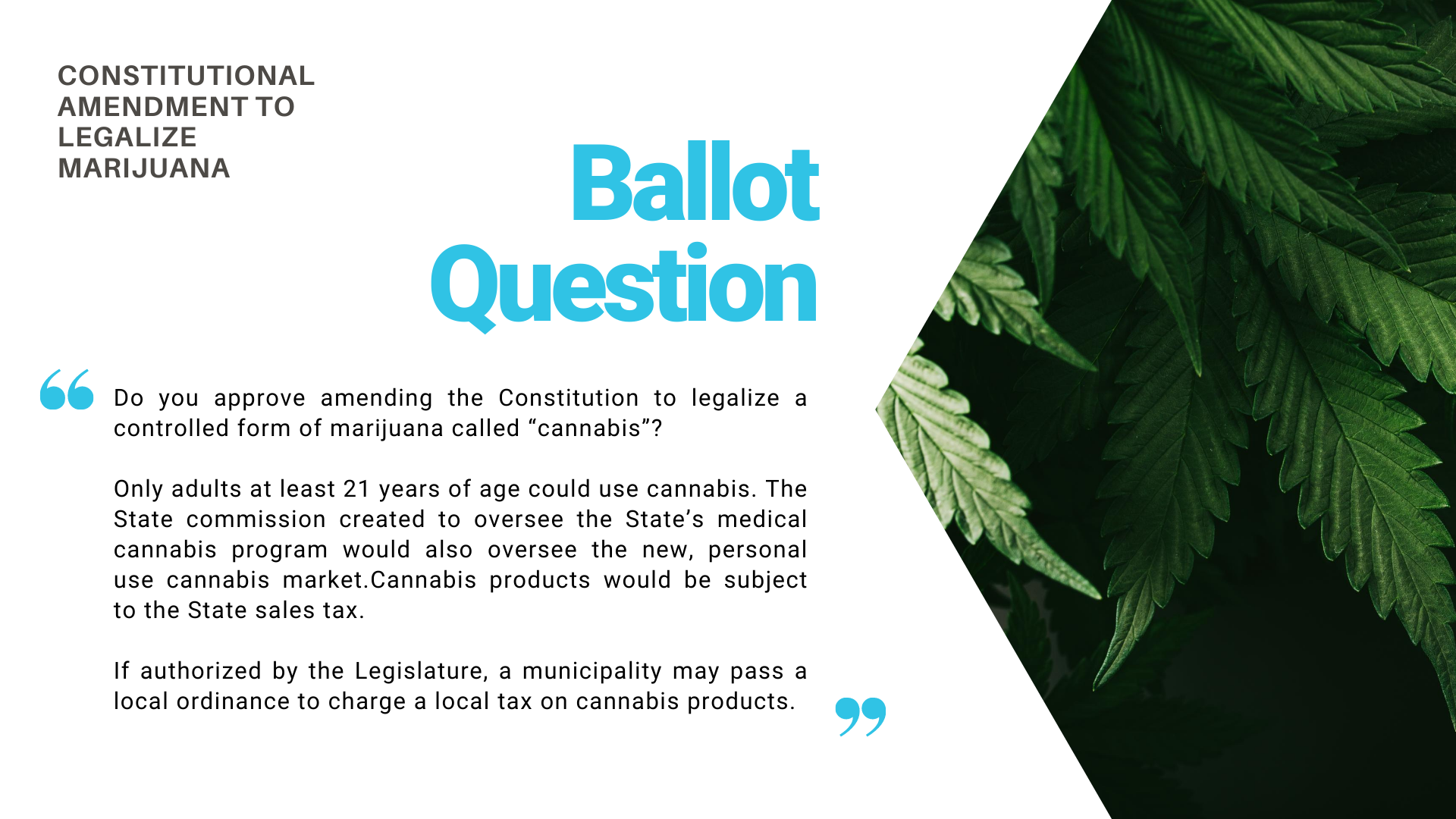 click photo to enlarge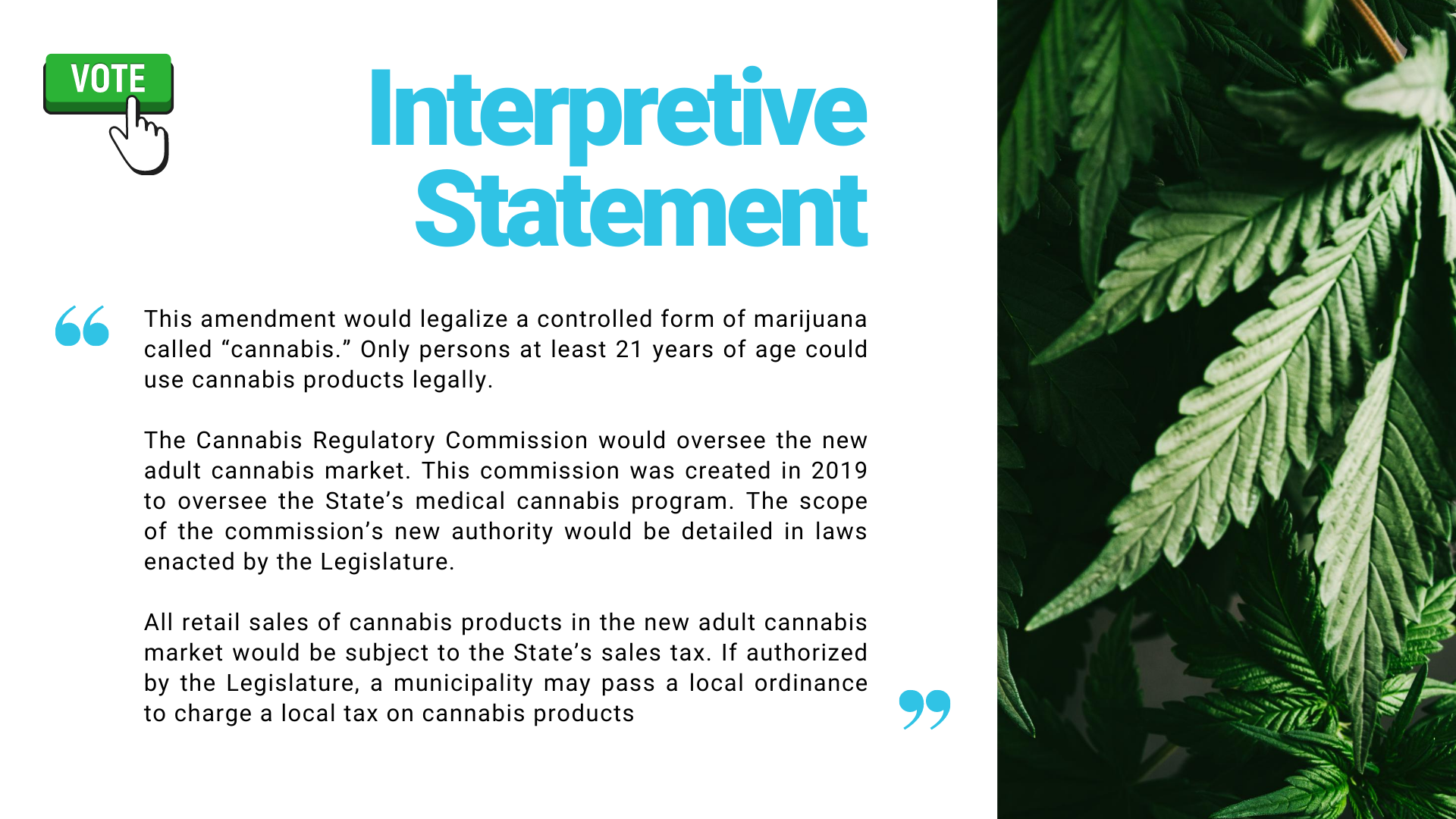 click photo to enlarge
A "yes" vote supports this constitutional amendment to legalize the possession and use of marijuana for persons age 21 and older and legalize the cultivation, processing, and sale of retail marijuana.
A "no" vote opposes this constitutional amendment to legalize the possession and use of marijuana and the cultivation, processing, and sale of retail marijuana in New Jersey.
https://ballotpedia.org/New_Jersey_Marijuana_Legalization_Amendment_(2020)


---
If passed, the amendment would take effect on January 1 of the following calendar year. Passage looks to be likely, as an estimated 60% of New Jersey residents favor legalization. The Legislature would have until the start of the new year to create new laws to regulate the legal cannabis industry. Over the past few years, this group has failed several times to come to a consensus on how a recreational market should operate, which is why a ballot initiative is now necessary. For this reason, it would also be unlikely that they will be able to create the necessary framework to allow for a seamless transition by January 1, 2021. Only time will tell how long it takes for the recreational cannabis industry to come on-line in New Jersey, if it becomes legalized.
For anyone interested in planning to start a cannabis business, there are a lot of things to consider. Funding is an uphill battle, as many institutional investors will not lend money to the cannabis industry and the banking institutions are staying far away from lending in the space. The taxation quagmire created by a State-legal and Federally-illegal industry deemed to be trafficking in a controlled substance is an even bigger hurdle. One cannot be successful unless they surround themselves with the right team, and our Cannabis Advisory Services Practice at Citrin Cooperman is here to help you succeed. With our vast experience and geographies located in multiple adult-use states, we are poised to understand the challenges and roadblocks that face you as you endeavor to enter this industry. There are many lessons that can be learned by those who have come before in each state as a state legalizes for adult use. We are here to help. Reach out to us today to take the first step to becoming a cannabis entrepreneur.
Our specialists are here to help.
Get in touch with a specialist in your industry today.