Services Included
ERP Assessments
Our independent assessments find practical, value-based solutions for improving your most critical enterprise systems
System Strategy and Selection
We select and design system ecosystems to drive efficiency
ERP Project Management as a Service
We provide sophisticated, on-demand project management capabilities for your most critical projects
ERP Process Improvement
A practical approach for each step of your journey of operational excellence
ERP Quality Assurance and Go-Live Readiness
We independently evaluate in-process ERP implementations to protect your business goals
Business Intelligence and Analytics
We help you measure your business to manage your results
How Citrin Cooperman Can Help
We help mid-sized companies navigate the complicated and risky ERP landscape to develop a reasonable strategy for their business, select and design a set of systems that is best for them, and then apply our disciplined and repeatable management approaches to make their implementation successful.
We are vendor agnostic which means we will help you make decisions that are best for your business and draw from knowledge of a wide range of Tier 1 and Tier 2 ERP systems.

There is no one best solution for all businesses or industries, but there are best practice approaches to choosing and implementing the solution that is best for you.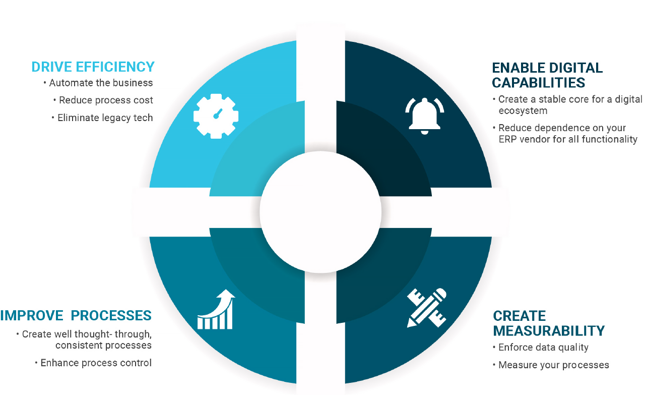 Why Citrin Cooperman?
Built for the Middle Market
We have the experience of the Fortune 500 but our focus is the middle market. We understand how middle-market businesses determine priorities and what it takes to execute.
Focus on Execution
Our consultants don't just advise, they also execute. We only provide advice that is realistic for your business to achieve.
We Understand Value
Our background as an accounting firm means we care about the numbers in everything we recommend and always consider bottom-line benefits.
Focused insights on demand.
Our In Focus Resource Center provides insights on real-time, relevant, strategic, and tactical business issues and trends to help keep you in front of what's happening in your industry and the market.
Our ERP Strategy and Implementation professionals are here to help.
Get in touch with a specialist today.