In the face of a dwindling talent pool exacerbated by factors like the decline in accounting graduates and increased turnover, mid-market companies are grappling with the challenge of building competitive finance and accounting departments. The demand for real-time financial results, coupled with rapid technological advancements, further complicates this challenge.
To navigate these complexities, outsourcing finance and accounting functions offers companies a compelling, highly customized solution. Beyond traditional outsourced bookkeeping, full-service outsourcing now encompasses a wide array of services crucial for a company's financial health. Citrin Cooperman's Complete Guide to Outsourcing Finance provides an in-depth look at these challenges, including the primary differences between seeking outsourced bookkeeping services or augmenting your finance department with a full-service outsourcing model.
Below are a few key areas to consider when determining which outsourcing model is the right fit for your company's needs.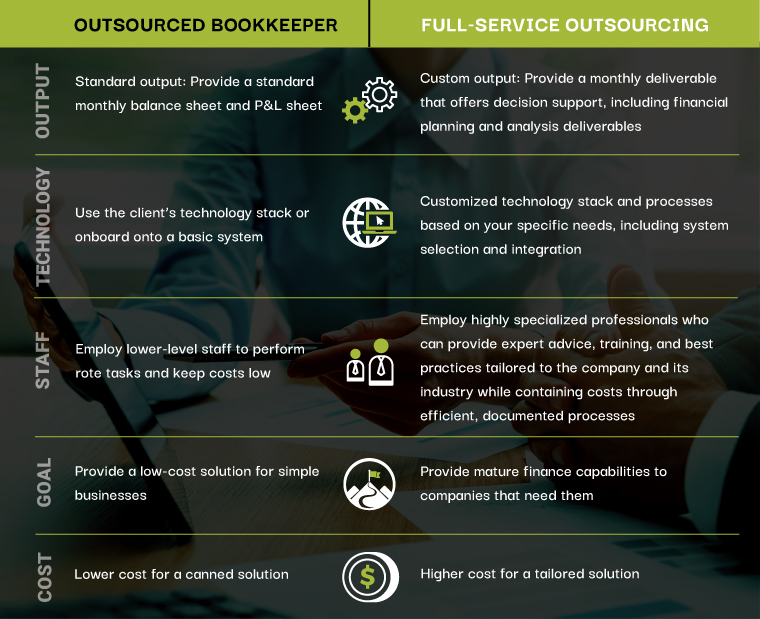 As companies consider how to best utilize outsourcing to keep their finance and accounting departments running efficiently, Citrin Cooperman's Business Process Outsourcing Services' team is equipped to provide guidance and the right amount of outsourcing for your unique needs.
For more information, please contact Practice Leader - Business Process Outsourcing Services, Mike Zyborowicz, at mzyborowicz@citrincooperman.com or Partner, Kieran Higgins at khiggins@citrincooperman.com.
Our specialists are here to help.
Get in touch with a specialist in your industry today.