How Citrin Cooperman Can Help
Many individuals have been unaware of tax reporting requirements for cryptocurrencies and tokens. As a result, the IRS is beginning to take action and will likely attempt to make an example of individuals who fail to stay in compliance. We can help you determine your gains and losses, correctly file your tax returns, and even amend prior tax filings to limit potential penalties and interest.
At the same time many investors are excited to gain exposure to the exciting new digital asset industry. However, start-up companies are often unprepared for scrutiny by these potential investors, with improperly prepared financial statements, internal control deficiencies, poor record keeping, technological/cybersecurity hurdles, and lack a proper financial statement audit. We help companies address these issues to become "investor ready" with in-depth experience from every area of the firm through our thirty-plus member digital asset committee.
We utilize a team based approach to service all of your cryptocurrency and token related needs. Whether it is tax reporting, technical accounting, strategic planning, estate planning, or advice regarding entity formation for a cryptocurrency based investment fund, Citrin Cooperman has the professionals to help.
Specialty Services
In addition to our core assurance, tax, and advisory services, we also offer a custom suite of services focused on the industry. These services include: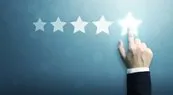 Client Testimonial
Hear What Our Clients Have To Say
"At the end of 2021, I found myself with an unexpected tax burden involving NFT and crypto transactions. It was unfamiliar territory for me and I didn't know where to turn. After reaching out to a number of tax professionals billing themselves as crypto specialists, many of them left me feeling uneasy, and that they weren't really willing to put in the work to truly understand my situation. Then I spoke to Mark DiMichael. He put me at ease, and I could see he had the expertise I needed. Once he was engaged, he spent several sessions going through each of my transactions, including complicated NFT transactions involving: air drops, burns, staking, gamification, etc. In the end, Mark was efficient and found me some significant tax savings that were only uncovered by doing the hard work of understanding all my various transactions and their implications. Thanks, Mark! Mark and Citrin Cooperman are highly recommended- you will be in good hands with them!"
Justin G.
Sign up for Digital Asset insights.
Our in-focus thought capital resource center provides insights on real-time, relevant, strategic and tactical business issues and trends to help keep you in front of what's happening in your industry and the market.
Our Digital Asset Specialists are here to help.
Get in touch with a specialist in your industry today.