How Citrin Cooperman Can Help
From a firm and transaction perspective, our expertise is extensive and well-established; however, the last five years have seen Citrin Cooperman steadily emerge as an industry leader in the independent sponsor community. In 2017 we launched our Annual Independent Sponsor Survey, which was the first of its kind and, year over year, it continues to be the definitive resource on the state of the independent sponsor community. Our reports are often used as a source in print and in industry presentations, and our authors and contributors are often called upon for their industry expertise. In the same way, we continue to make an impact on the overall growth of the independent sponsor community, by connecting capital providers with independent sponsors and creating opportunities to develop relationships.
When it comes to independent sponsors, our goal is simple - we want to help our clients succeed.
The independent sponsor path "is not for the faint of heart." We first noted this in our inaugural 2017 Independent Sponsor Survey, when we began our research on the independent sponsor community. Four years later, that phrase has never been truer. Virtually overnight, independent sponsors and their portfolio companies woke up to a new world, facing business shutdowns and changed consumer behavior. Fortunately, for independent sponsors, challenges are part of the game. Independent sponsors are adaptable, resilient and adept at managing uncertainty and risk - and Citrin Cooperman will be there to help them succeed.
Our integrated team of transaction, valuation, and tax specialists takes a multidisciplinary approach, drawing from our in-house industry professionals to provide industry-specific transaction advisory, detailed due diligence, and post-close support. We believe in making friendly introductions to independent sponsors and capital sources, as well as other advisors to the community. We have the industry knowledge and technical experience for any sale or acquisition, and we consistently demonstrate our value by helping our independent sponsor clients maximize opportunities, while mitigating their investment risks and broken deal costs exposure.
2023 Independent Sponsor Report
The independent sponsor model continues to increase in popularity, the sector is becoming more professionalized, capital providers and company owners are embracing independent sponsors in greater numbers, and the market is providing opportunities that independent sponsors are uniquely poised to seize. It is against this backdrop that, year after year, we continue the analysis we began in 2017. Our annual surveys of independent sponsors from across the country explore a wide range of topics, such as deal sourcing, relationships with capital providers, deal economics, and liquidity events. In uncertain times, knowing where to go for answers will help you prepare your business to thrive in any outcome.
Take a look at our most recent survey results in the 2023 Independent Sponsor Report.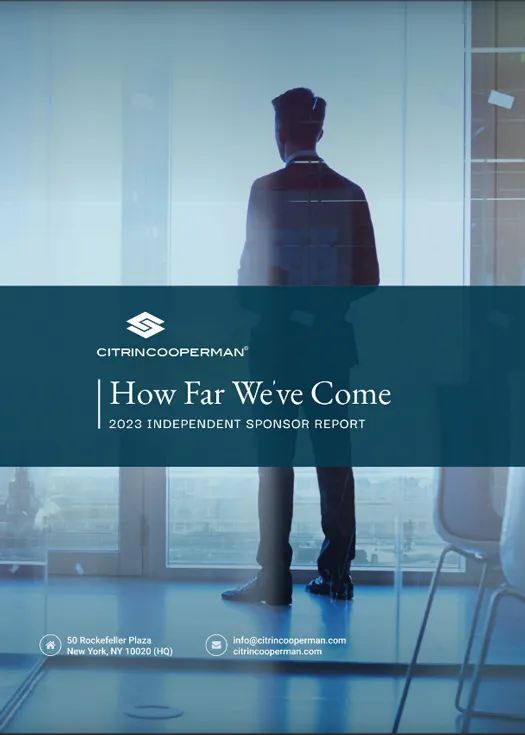 Specialty Services
In addition to our core assurance, tax, and advisory services, we also provide
Best practices for efficient and transparent operations
Cash flow and profitability analysis
Facility valuations
Improving billing procedures
Industry benchmark analysis
Internal controls
Inventory management
Organizational structuring
Preparation and review of cost reports
Representation before the Internal Revenue Service (IRS)
Sales audit for percentage rent
Structuring compensation arrangements
Structuring transactions
Technology consulting and analysis
Sign up for Independent Sponsors insights.
Our in-focus thought capital resource center provides insights on real-time, relevant, strategic and tactical business issues and trends to help keep you in front of what's happening in your industry and the market.
Our Independent Sponsors Specialists are here to help.
Get in touch with a specialist in your industry today.