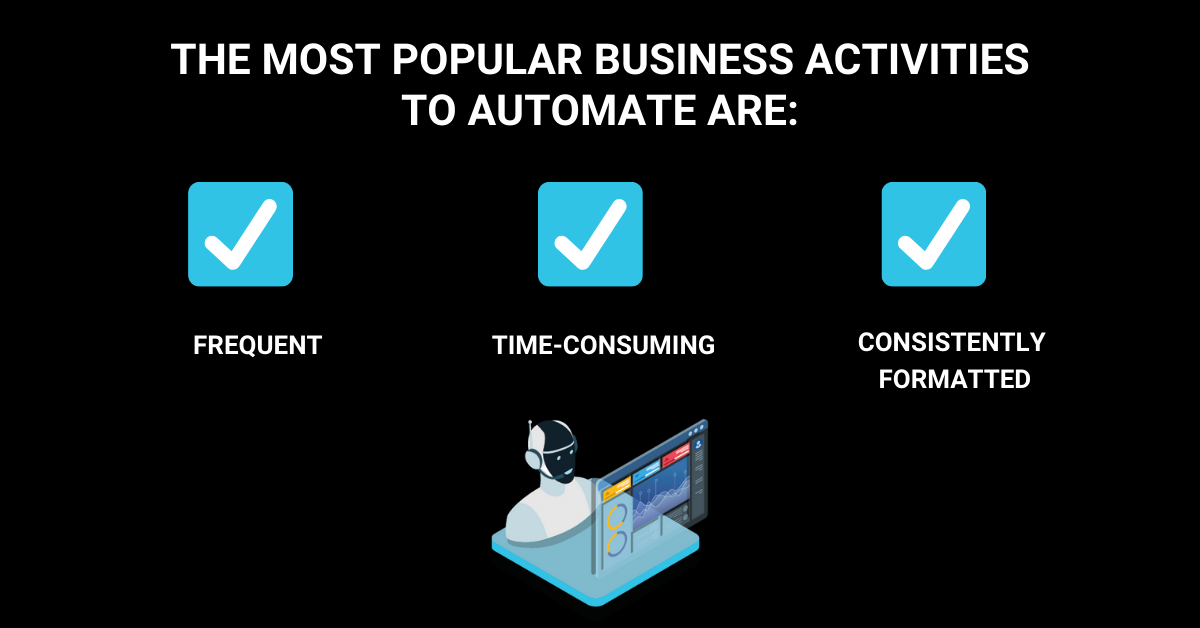 A common question when considering Robotic Process Automation (RPA), is "Which business activities would I automate first?" While there is no one-size-fits-all answer, there are common characteristics in certain activities that make them easy to automate. Ask yourself these questions:
What activities are performed frequently? Are these activities time-consuming? Is the data generally in a consistent format?
The following automations can stimulate ideas on how RPA can apply to some of your processes:
Tedious Activity: Financial Reconciliations
Involves: Cash accounts, balance sheet accounts, sub-ledgers
RPA Solution:
Pull reports from different sources
Normalize and compile reports into the reconciliation tool you use
Perform matching activities until it can complete or send to finance team


Tedious Activity: Billing
Involves: Time sheet, drawings, quality assurance records)
RPA Solution:
Pull all of the required billable data from each system
Create the billing package
Program a separate bot to perform revenue assurance on the invoices


Tedious Activity: Account Provisioning and Compliance
Involves: Core systems, security matrices, Excel forms, PDFs, contracting systems)
RPA Solution:
Establishing accounts
Ensure each compliance step is followed properly
The higher the volume or risk of these onboarding procedures, the more value RPA brings


Tedious Activity: Operational Finance and Accounting
Involves: CRM, Contract Management Solution, Billing system, General Ledger, and more)
RPA Solution:
Calculate and review rebates
Download detailed monthly sales data
Calculate commissions


Tedious Activity: Cash Flow Forecasting
Involves: ERP system, accounts receivable, accounts payable, importing, cash forecasting excel model
RPA Solution:
Extract the actual data from an ERP or general ledger system
Feed it directly into the cash forecasting excel model.
Enhance the treasury of finance team's forecasting ability


It is never too early to discuss how these processes, or others, can be automated to create more value in your business. Contact us today. Our Rapid Automation Assessment will identify your best opportunities for automation in 2-4 weeks and with our accelerated implementation approach, you'll have your first automated process running in as little as 60-90 days.
Our specialists are here to help.
Get in touch with a specialist in your industry today.