The COVID-19 pandemic has brought on endless, unprecedented opportunities and threats to manufacturers and distributors operating in the middle-market. Although we are now more than 18 months removed from the World Health Organization's announcement classifying the outbreak as a pandemic, operators are still navigating the lasting marketplace repercussions of this event. One of the most significant opportunities to consider has been the growth in the e-commerce sector. As safety concerns have deterred consumers from in-person shopping, online shopping became its replacement. There is no denying that consumer habits have changed over the course of the pandemic. In fact, Citrin Cooperman's 2021 Manufacturing and Distribution Pulse Survey states that the majority of executives report online sales make up half to three quarters of their sales for 2020. As a result, businesses around the world have been attempting to adapt with consumers.
This growth in e-commerce has forced a host of companies to explore new relationships within their respective supply chains. During this time, one country has proven to consistently offer competitive pricing from its suppliers: the People's Republic of China. For companies with infrastructure in place to export goods from China prior to the pandemic, this changing environment has had a significant impact to the bottom line. While these companies may have been able to benefit from the e-commerce growth seen around the world, the rising ocean freight costs being charged to export goods from China has managed to offset that advantage. Both direct and indirect competitors have increased exporting activity from this part of the world, which has tipped the balances of supply and demand as it relates to ocean freight services exporting from China.
Ocean freight prices, specifically to export goods from China, have increased significantly over the past 12 months as shown in the chart below. Costs for some similar shipments have nearly tripled in price. Both the China Containerized Freight Index ("CCFI") and the Shanghai Containerized Freight Index ("SCFI") reflect the ocean freight and the associated seaborne surcharges of individual shipping routes on the spot market. The CCFI and SCFI show that these charges have increased significantly beginning in 2020 and continuing through 2021. The SCFI has recently cross the $4,000 per 20-foot equivalent unit, marking the highest prices in history.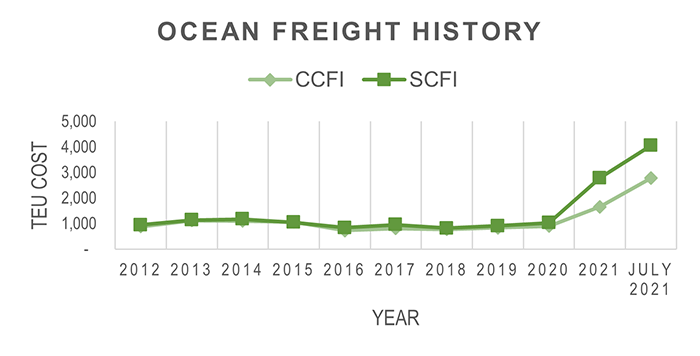 https://en.macromicro.me/charts/947/commodity-ccfi-scfi
The changing landscape of so many sub-industries that fall under the manufacturing and distribution umbrella, thanks to increased demand to ship goods out of China, has some unique applications for owners who have been considering a potential sale of their business. Most business owners that we advise believe that this increase is temporary and many have been working on plans to incrementally pass along these price increases to customers. Some have strategically shifted to process more orders through suppliers outside of China, but only if it proved to be a viable option. Nonetheless, these costs continue to eat away at the bottom line in the most recently reported fiscal periods. When considering a sale, this could have a direct impact on the value prospective buyers will place on a business.
At Citrin Cooperman, our partner-led Transaction Advisory Services Practice team provides buy-side and sell-side services to financial sponsors, corporate acquirers, and business owners and their companies. With a special focus on lower middle-market transactions, our integrated team of transaction, valuation, and tax specialists takes a multidisciplinary approach, drawing from our in-house manufacturing and distribution industry advisors. Whether you're considering a purchase or a sale, it's important to find an advisor who understands all the workings of a deal in order to find the best value for your team.
Our specialists are here to help.
Get in touch with a specialist in your industry today.