Services Included
CFO Services and Decision Support
Budgeting and Reporting

Annual Budgeting
Driver-Based Budgeting
Operational Budgeting

Continuous Forecasting

Monthly Forecasting
Ongoing Cash Forecasting
Sales and Revenue Forecasting and Re-forecasting

Scenario Modeling

Driver-Based Financial Modeling
Model Different Growth Levels
Model Operation Requirements
Financial Planning and Analysis (FP&A)
Gather data from across the organization
Define your forecasting, planning, and financial reporting process
Drive business performance using best-in-class, collaborative planning processes
Finance Operations
Policies and Procedures
Financial Reporting of Historical Data
Forecasting of Future Financial Information
Finance and Accounting Special Projects
We can provide experienced response teams to address pressing short-term needs on a project basis. From audit preparation to assisting with providing financials for tax purposes, our team is ready to mobilize and help quickly.
How Citrin Cooperman Can Help

Citrin Cooperman's Business Process Outsourcing (BPO) team of industry-specific finance professionals have significant experience in providing outsourced financial solutions to elevate your business. Our focus is to provide cost effective services necessary for your business to achieve desired outcomes through ongoing services or project-based work.
Our team works in tandem with other services provided by our firm, including tax advisory, wealth management, cybersecurity, transaction advisory services, and more. The interplay of BPO along with advisory services allows us to add value to your business in a variety of ways.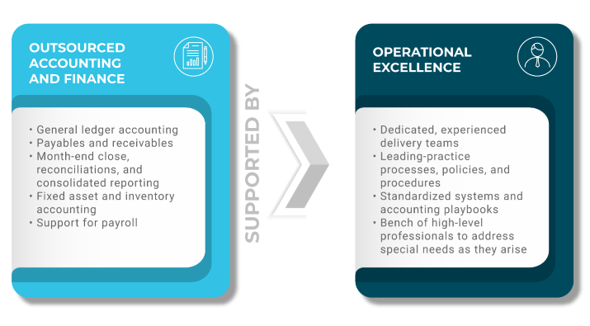 Elevate Your Finance Function
Citrin Cooperman's Outsourced Finance and Accounting Practice is your turnkey solution for elevating your finance capabilities. Our team provides your company with a high-performing, sophisticated finance department to support your ongoing operations and transform them as your grow and evolve.
Focused insights on demand.
Our In Focus Resource Center provides insights on real-time, relevant, strategic, and tactical business issues and trends to help keep you in front of what's happening in your industry and the market.
Our Finance and Operations professionals are here to help.
Get in touch with a specialist today.