Many companies in the middle market manage projects on an "as needed" basis. As projects get more strategic, they also have a tendency to get larger and more disruptive. To mitigate the risks associated with this and to achieve results over a sustained period of time, companies need a strategic roadmap that ties their day-to-day effort to their business strategy.
Does this sound familiar to you?
You have an idea for an important project, you ask a manager to execute it, and it works well for a week or two. Then a big issue occurs somewhere else in the business which everyone scrambles to fix, and the project falls to the wayside, along with its still unrealized benefits.
Businesses in the middle market are particularly prone to this cycle. Day-to-day activities require constant care and feeding from executives, which makes it difficult to create momentum that deliberately moves you towards accomplishing your strategy.
How do you achieve this momentum? A great place to start is a strategic roadmap. A roadmap helps executives invest in and manage a list of projects that align with their strategy for the company. It benefits owners, executives, and managers, and encourages collaboration that aligns everyone on priorities and new investments.
Most importantly, a roadmap provides a clear picture of how to achieve your strategy. Business strategies most often fail because of poor execution – not because of bad ideas. In fact, 61% of executives say their firms fail to convert their strategies into effective execution plans.
What is a Strategic Roadmap?
A strategic roadmap is a governing document that shows which projects are required to drive and support the growth of the business. It specifies how the organization will adapt to support the business strategy and achieve its priorities over the next 18-36 months. The best roadmaps contain:
A strategy statement with the list of the strategic priorities for the business
A timeline of the projects that need to occur to achieve the strategy
Justifications for each project
The estimated cost and duration for each project
An owner (manager) who will be accountable for each project


Types of Strategic Roadmaps
There are a few different formats of strategic roadmaps which we recommend for your consideration.
The Detailed, Long-term View:
This strategic roadmap contains a list of all the detailed projects on the immediate time horizon. These typically extend for 12 – 18 months and are updated monthly or quarterly. They are designed to help bring a full perspective to all of the activities planned, but are not detailed enough to guide day-to-day project execution.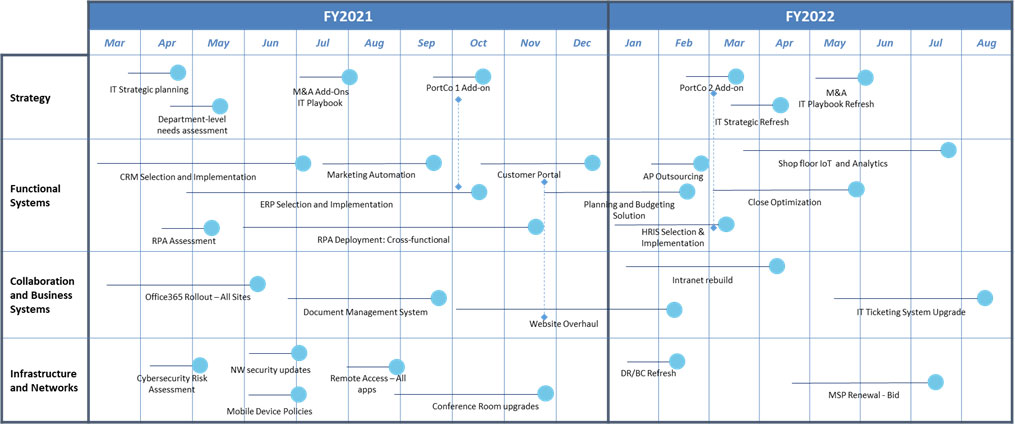 The More Detailed, 60 or 90-day Plan:
We recommend that most of our clients run their roadmaps in 60 to 90-day increments, depending on the level of difficulty, cost, and length of their roadmap projects. These plans still get a visual, but they contain the milestones for each project within each time period.
For the Scrum folks reading this, I deliberately avoid the use of Scrum terms like "sprint" here, although in some cases that can be the appropriate framework. We generally use a combination of Scrum techniques and waterfall techniques to execute the projects on a given roadmap.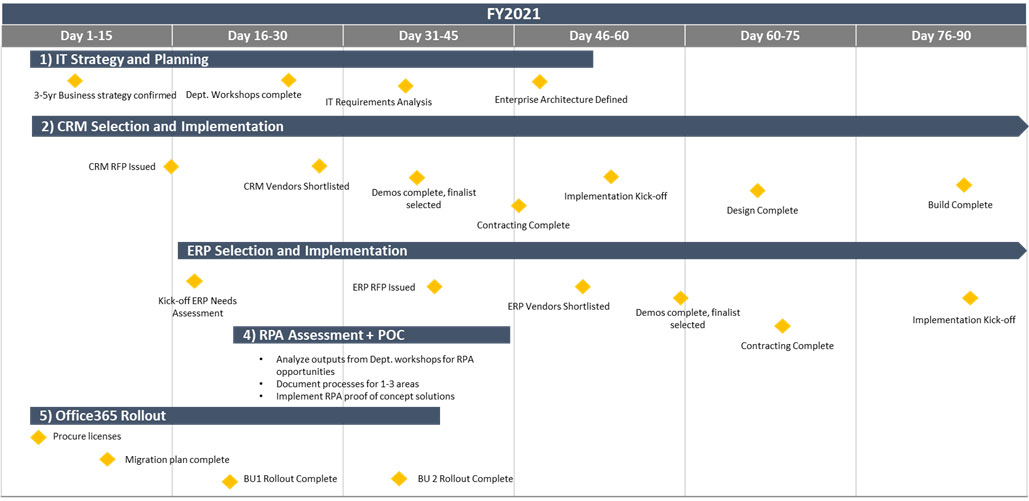 The Project Plan:
The lowest level of detail that roles up to the strategic roadmap is the project plan. In our methodology, every project needs a project plan. If it's a small, simple project with few milestones and deliverables, this can be as simple as a spreadsheet or a slide containing the core elements of the plan. For larger projects – especially those with multiple teams or sensitive timelines – we use a full project plan, generally managed in either Smartsheet or Microsoft Project.
How will you use it?
A strategic roadmap has three primary functions:
Prioritization: Facilitate investment discussions with the rest of the leadership. The roadmap will serve as a reference point when discussing changing priorities. It will help everyone understand how to balance priorities and visualize tradeoffs.
Planning: Plan time for resources and costs for capital needs. Only 11% of managers say they have the resources they need to pursue the company's strategic objectives. The roadmap will help anticipate resource needs and capital costs ahead of time and make it possible to integrate key projects into each department's day-to-day plans.
Accountability: Create individual and departmental accountability for execution. It will help owners clearly understand how they should balance existing roadmap initiatives with new requests and issues. It will keep people on track when other business needs arise. Active management of the roadmap will result in better executive alignment and stakeholder buy-in before projects even begin, and give those accountable a smoother road to success.


Who benefits from it?
Functional Leadership
The strategic roadmap is designed to structure communication between department managers and company executives in a manner that allows everyone to:
Act strategically when making investment decisions and managing projects
Secure buy-in from executives with a structured process. This also makes it easier to earn buy-in from business users
Negotiate effectively with executives or staff who request new initiatives that require significant non-operating effort
Executives
The strategic roadmap allows executives to be strategic when they evaluate new initiatives. They can use the overall strategic plan to determine which types of projects will be required to achieve the company's goals and make it clear to managers and staff why a specific project is important. It will explain the value proposition for each department and suggest how to maximize its value.
A strategic roadmap provides resourcing forecasts when staff needs to be assigned to projects, traceability to costs, and the detail for why those resources and dollars are required.
Finally, it provides a strategic, structured manner for governing changes to the projects as business needs arise. A roadmap ensures all necessary voices are at the table when decisions are made that will eventually require ongoing support, and it helps balance priorities across the business, diffusing conflict before it arises.
Staff and Project Teams
The strategic roadmap spells out why particular projects are important and, as items move or are re-prioritized, it forces project managers to explain why and how those priorities are shifting. The roadmap encourages a clear and regular line of communication between leadership and staff.
A Strategic Roadmap Should Not Make You Rigid
Having a roadmap does not commit you to it permanently. You do not need to stick to the plan you set out at the beginning forever. In fact, it will be in your best interest to change the plan (in an orderly fashion on an established schedule) as business conditions change. The strategic roadmap itself provides the structure in which to manage those changes effectively – it is not intended to prevent them.
The Bottom Line
As valuable as a strategic roadmap is as a document, it is more valuable as a communication and management tool. All executives and key managers should be involved in developing and managing the roadmap, and the process itself should be owned by someone with credibility and authority. Because of the strategic nature of the document and how critical leadership buy-in will be, the roadmap will need widespread support at the highest levels of the business.
If you are a manager, encourage your executives to support the development of a roadmap so you can invest strategically and have structured conversations around priorities with other executives.
If you are an executive, take a breath, find the right guidance, and start building a roadmap. Once the document and proper leadership are in place, you will be able to see results in your organization quickly, and soon understand how to see tangible value and success.
All of our rapid assessment methodologies end with a full roadmap, as described above.
To learn more about the assessment process behind a great strategic roadmap, take a look at our:
To get help developing your own strategic roadmap, contact our Strategy and Business Transformation Practice.
Our specialists are here to help.
Get in touch with a specialist in your industry today.