Services Included
Price-to-Win Analysis for Services and Engineering-Based Solutions Projects:
Price-to-Win as a number is the bid price needed to win a competitive procurement. Price to Win as a process is an iterative effort to model the competition's solution, build up and forecast their bid prices, and assess how they will likely score on non-price items. Equipped with this insight, capture and pricing teams can confidently dial in their bid price, increasing their probability of winning.
Competitive Assessments (Customer and Competitor):
Our competitive assessments go beyond just intelligence. We use the competitive intelligence we find to assess the ability of our client and their competition to meet the requirements and win a program. Unlike a full Price to Win, we can start a competitive assessment very early in the procurement to help provide information for your decision gates and black hats. We will also inform you if we determine that you are not in a competitive range to bid for the proposal.
Black Hat Facilitation and Support:
It is vital for every company to have an independent viewpoint on a procurement. An internal look at your competitors is often biased and insufficient. The McNulty Team can participate in or lead black hat reviews for your program in order to give you the point of view of your competitors to help you decide where you stand in the landscape, where you need to improve, and how to formulate your strategy.
WRAP Rate Products and Analysis:
When bidding on government contracts, the difference between winning and losing often comes down to a few percentage points on price. Competitive pricing models must have accurate competitor WRAP rates. Our team uses very sophisticated analysis techniques and proprietary algorithms to continuously update domestic and international WRAP rates for hundreds of companies in services, development, and manufacturing categories.
How Citrin Cooperman Can Help
The McNulty Team is an industry leading provider of Price-to-Win (PTW) analysis and related competitive intelligence and assessments.
Our team of research analysts, technology professionals, pricing and financial analysts, technologists, and parametric modelers provide our clients with exceptional insights and understanding of the program, budget, competitive landscape, and pricing for their must-win opportunities.
Our team analyzes the opportunity, budget, competitive landscape, and historical program data to gain an understanding of your situation. We then apply our proven processes combining our technical, competitive, and programmatic experience with leading parametric estimating tools to develop independent accurate bottoms-up estimates and forecasts. Throughout the analysis, our team applies a rigorous quality assurance process to ensure maximum accuracy.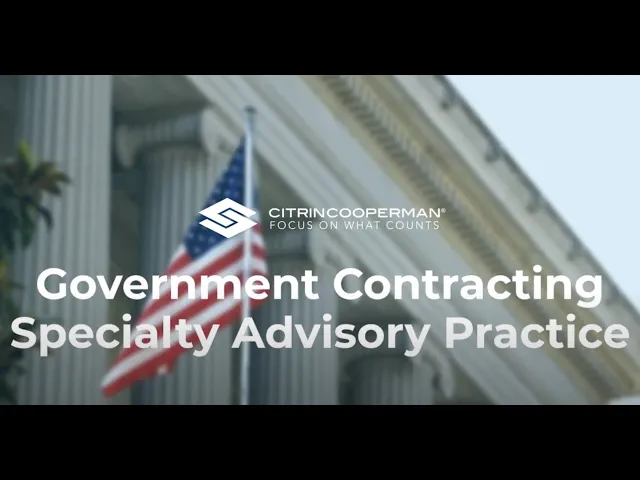 What Makes Us Different?
As engineers and consultants, we approach our work from a technical perspective.
Our proven methodology reliably supports many types of bids.
On average, our analysts have worked in the government contracting industries for over 20 years.
We have proven success winning bids to multiple government agencies.
SIGN UP TO GET
Focused Insights, On Demand.
By your submission of information in this form, you are consenting to our collection, use, processing and storage of your information in accordance with Citrin Cooperman's privacy policy. If you have questions regarding our use of your information, please send an e-mail to privacy@citrincooperman.com
Our Government Contracting Specialty Advisory professionals are here to help.
Get in touch with a specialist today.