Services Included
Assessment Areas
IT operations
Network security
Physical and logical security
Mobile devices
Recovery
Online security
Data privacy and security compliance
System and hardware controls
Deliverables
Risk summary dashboard
Hot spot report and summary
Recommended solutions
Benchmarking
How Citrin Cooperman Can Help
Understand your exposure to a cyber-attack before it happens with our Security, Compliance, and Operations Risk Evaluation (SCORE) Report. This high-level risk assessment is designed for small to mid-sized companies and evaluates several key areas of your company's technology and compliance environment, including:
IT operations
Physical and logical security
Mobile devices recovery
Network security
Online security
Data privacy and security compliance
System and hardware controls
Know where your most significant risks exists, so you can create and implement solutions to protect your company and your data. Through interviews with key members of your IT and management team, the SCORE Report will provide you a de facto roadmap, prioritizing your most significant areas of concern, and providing a remediation plan which is designed to be easily understood by executive management and your IT team.
When You Should Reach Out
Your company's cybersecurity risk level has not been recently evaluated
Your company is not prepared to respond and recover from a cyber-incident or breach
You are unclear how you are protecting your most critical systems and sensitive data
You are unsure if your IT department or outsourced IT provider is properly protecting your business
You are not aware of which cybersecurity regulations apply to your business/industry or if you are in compliance
Deliverables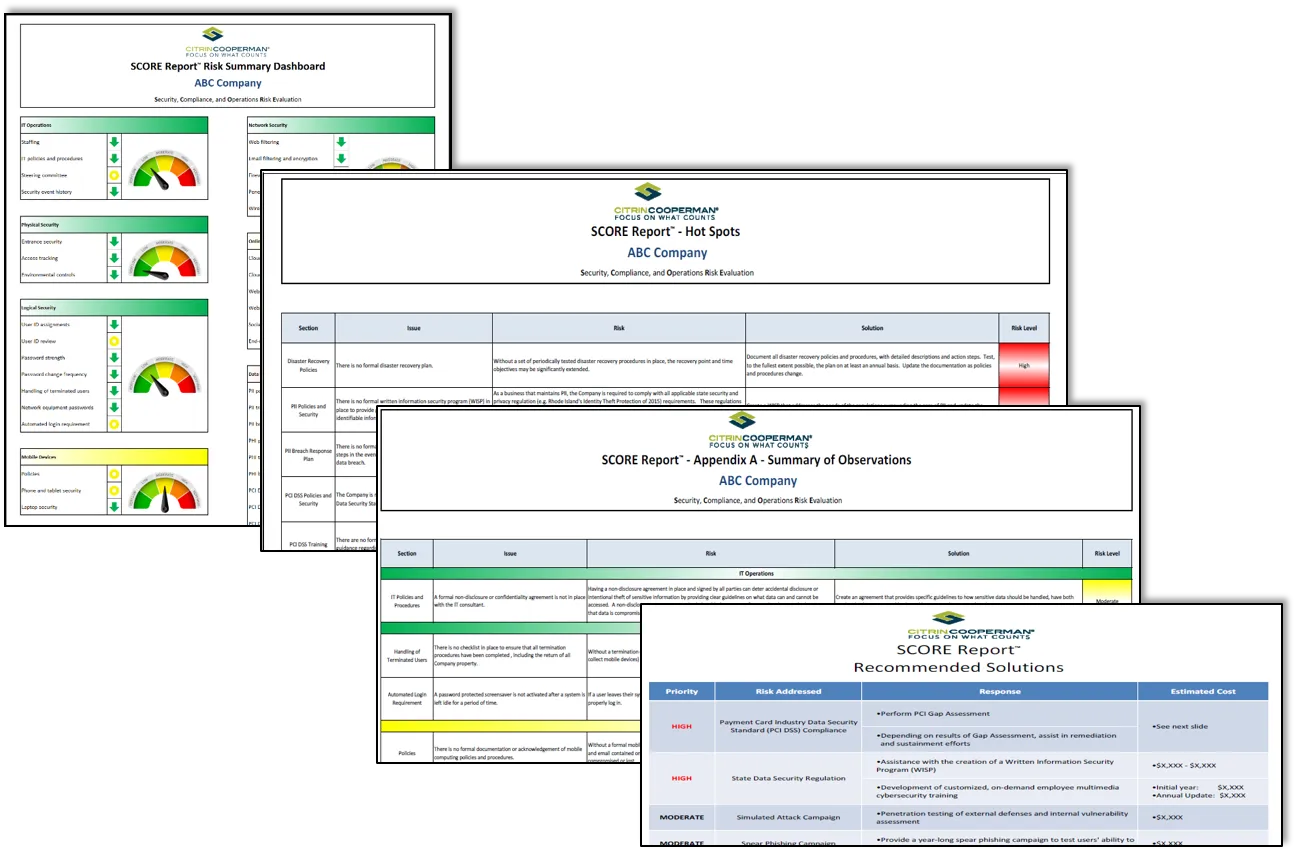 Value to Your Business
Understand the impact of a breach and how to better protect the company from a breach
Identify the most critical systems, data, and threats to enable the organization to better protect the key systems and data
Creation of a prioritized action plan to address identified risks and a de facto roadmap for remediation and compliance
SIGN UP TO GET
Focused Insights, On Demand.
By your submission of information in this form, you are consenting to our collection, use, processing and storage of your information in accordance with Citrin Cooperman's privacy policy. If you have questions regarding our use of your information, please send an e-mail to privacy@citrincooperman.com
Our SCORE Report professionals​ are here to help.
Get in touch with a specialist today.